… the elite secret society of bodyguards sworn to protect the leaders of the radical women's rights movement.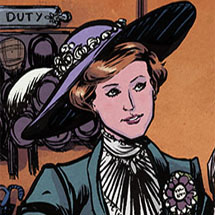 Persephone Wright
Athletic, charismatic and a brilliant tactician, 27 year old "Persi" is the field leader of the Amazon team.  In daily life, she teaches the martial art of Bartitsu at her uncle Edward's gymnasium in Shaftesbury Avenue.
Persi's hedonistic, free-thinking lifestyle sometimes clashes with her disciplined drive to protect others at all costs.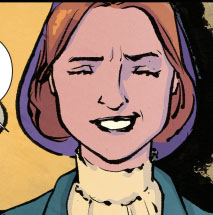 Flossie Le Mar
A rough-diamond adventuress from New Zealand, Flossie has a quick temper and a sarcastic wit.  She is, however, a passionate advocate of women's rights, including the right of self-defence.
Toupie Lowther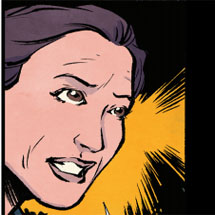 A skilled tennis player, singer, fencer and Bartitsu fighter, the aristocratic, cross-dressing lesbian Toupie Lowther is also one of England's best "lady motorists".  She serves as Mrs. Pankhurst's chauffeur and getaway driver and is effectively the second-in-command of the Amazons.
Judith Lee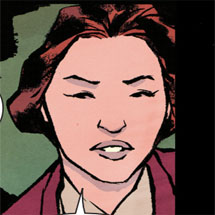 Judith protests that she is not so much a detective as simply an inquisitive woman with some unusual talents; these happen to include martial arts training and lip-reading, which she employs in her daily work as a teacher of the deaf.  She is, however, "morally compelled" to investigate crimes and mysteries when they cross her path.
Miss Sanderson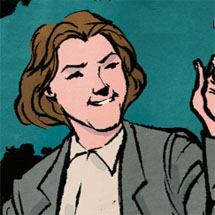 A silent woman of mystery – not even her Amazon teammates  know her first name.  Miss Sanderson is a mistress of the art of parasol fencing and is darkly rumoured to have worked as a "governess".  She wears a tight-lipped, predatory grin in the heat of battle.
Katie "Sandwina" Brumbach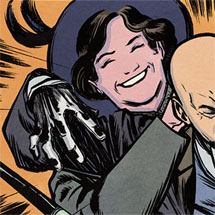 At 6'2″ tall and 240 lbs., Mrs. Brumbach is a woman of notably feminine bearing when she's not snapping iron chains and out-wrestling strongmen.  The only daughter of an Austrian circus family, she is fiercely loyal to her Amazon cohorts.
Kitty Marshall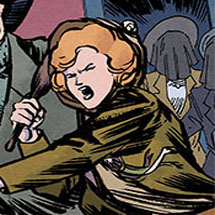 18 year old Kitty is the youngest member of the Amazon team.  She's inclined to over-apologise and harbours a secret fear of ghosts, but she's a quick-thinking and brave fighter for the cause of women's freedom.
Kitty keeps her Amazon training and missions secret from her over-protective family.