By Lucy Addington (History Wardrobe)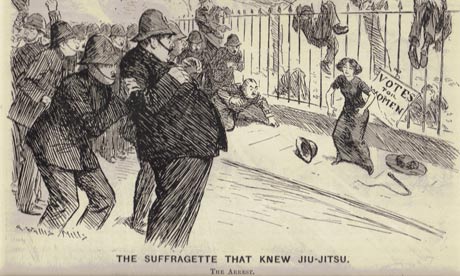 One Edwardian woman who certainly didn't let fashion hobble her was martial arts expert Edith Garrud. Her ju-jitsu skills made a mockery of would-be muggers and over-assertive policemen alike. She kept wooden clubs in her hand-warming muff. If she sweetly dropped her handkerchief in the street it was as a prelude to a devastating bit of self-defence.
Undaunted by the contrast between the demands of appearance and the demand for political representation, both militant and non-violent suffragists learned to use their clothes as part of a series of battle tactics. For example, women who were dressed impeccably could pass without suspicion into public spaces or political meetings. Once in place they could whip chalk from their purses to scrawl slogans on pavements; they could pull chains from their handbags to secure themselves to railings, in order to have their say while someone searched for bolt-cutters. 'Slasher' Mary Richardson even concealed a small axe in her blouse sleeve, ready to attack Velasquez's painting, the Rokeby Venus, at the National Gallery.

You can read the rest of this article on the intersection of suffragism and fashion via the Edwardian Promenade website.