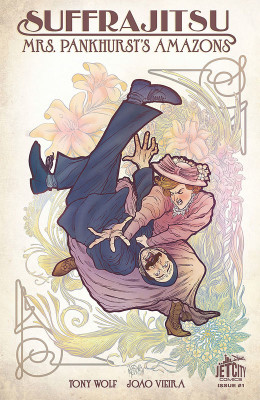 London, 1914: with Europe on the brink of war, the leaders of the radical women's rights movement are fugitives from the law. Their last line of defence is the secret society of Amazons ...
About the Book
The Suffrajitsu graphic novel trilogy introduces Miss Persephone Wright and her elite team of Amazons; women trained in the martial art of Bartitsu and sworn to defend the leaders of the radical suffragette movement.
In Issue #1, the Amazons square off against the London and Glasgow police, who are attempting to arrest the outspoken political activists, Emmeline and Christabel Pankhurst.
In Issue #2, Persephone's team embarks on a daring rescue mission that takes them far from the familiar streets of London and pits them against a sinister new enemy.
Issue #3 sees the Amazons racing to prevent a terrorist attack that may have dire consequences for the entire world …
---
Buy now from Amazon or ComiXology
---