The year is 1914 …
… and with Europe on the brink of war, the leaders of the radical women's rights movement are fugitives from the law. Their last line of defence is the elite secret society of "Amazons"; women trained in the martial art of Bartitsu and sworn to protect their leaders from arrest and assault.
The stakes dramatically rise when the Amazons are thrust into a deadly game of cat and mouse against an aristocratic, Utopian cult …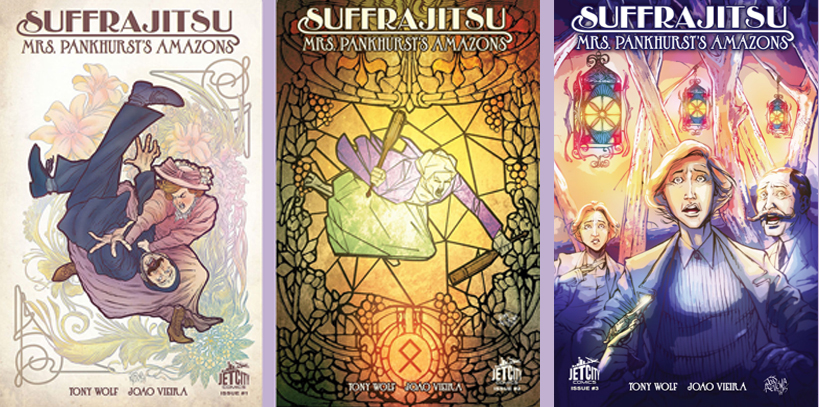 Suffrajitsu is an alternative history action/adventure graphic novel trilogy written by Tony Wolf with art by João Vieira. The trilogy is part of the Foreworld Saga and is published by Jet City Comics.  
The Suffrajitsu trilogy is now available for purchase in e-book format via Amazon.com and all international Amazon branches.  Issues are also available (individually or as a series) from comiXology. We recommend comiXology's free Guided View app for a fluid, intuitive graphic novel viewing experience.
The trilogy is also available in print as part of the Blood and Honor anthology, along with two other Foreworld Saga graphic novels; The Dead God and Symposium.
Suffrajitsu.com is your online portal into the world of the suffragette Amazons. Check out our blog, which includes a huge range of posts on topics Amazonian, including a short history of the real suffragette bodyguard team.  You can also read reviews of the trilogy here.
Please join us on Facebook and/or Twitter to keep up with the latest news as we enter the world of Suffrajitsu …