We're pleased to be able to present this interview with Australian author Mark Lingane, whose new Suffrajitsu novella The Second Story Girl is now available from Kindle Worlds.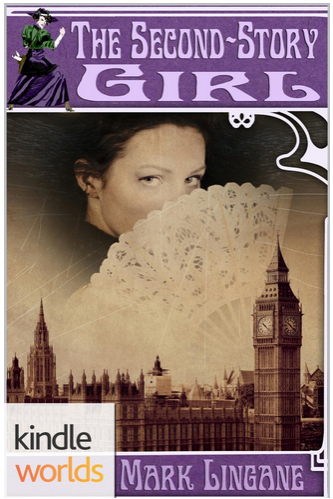 London, 1910. Spoilt and wild, Genevieve Cranston is a party girl with little to live for when her reckless lifestyle flings into the gutters after the suspicious death of her father and the mysterious disappearance of her younger brother Lindsey.
Rescued, redeemed and trained for action by the radical suffragette Amazons, Genevieve will stop at nothing to find her missing brother. She is soon caught up in a dense web of deceit and double-dealing, as both sides of the political landscape manoeuvre to shape the future of the free world.
Time is running out, war is on the horizon and Genevieve needs to grow up fast. Lindsey is an important player in the game of cat and mouse, and with the aid of some gifted friends, Genevieve is hell-bent on saving him, and upon revenge.
Q:  What was it that first attracted you to writing stories set in the Edwardian era of the Foreworld?
M.L.: I've been dabbling with a futuristic steampunk series, but wanted to write something more in line with the actual Victorian era. The opportunity to contribute to the Foreworld popped up, and I thought, well, Edwardian/Victorian, that's got to be close …
Q:  What were the greatest challenges in writing this story?
M.L.: The writing style of that era was much more formal, directly at odds with my own style. Also, I had to revise a lot. History wasn't a strong subject for me at school. Then making sure that the history didn't get in the way of the story …
Q: In what way?

M.L.: My previous knowledge of this subject, from school, amounted to a woman jumping out in front of a horse at a horse race. Reductionism to the point of absurdism. And so I researched, and the more I researched, the more I realized I didn't know. But, what was more shocking, when I discussed these issues with a younger generation, they knew nothing about women's suffrage.
Q: Nothing at all?  How did you explain it?
M.L.: As with most civil movements, it starts with someone with an epic amount of bravery, accompanied by either a burning rage of fairness, or a breaking point. Brave people standing up and saying 'no more'. The brutality. The ridiculous laws. The bloody-mindedness. It hardly seems to fit in a civilized world.
It is hard to get your head around how such a simple and obvious right was perceived as being so offensive in such recent history. But the women stood strong – shoulder to shoulder – enduring, and they won.
Q: In what way(s) would you say the themes of the Suffrajitsu series are relevant to us today?
M.L.: Fourteen thousand people in the UK are over one hundred years old. Everything has changed within living memory.  In a world where there are so many things to know, do we have time and inclination to revisit the past?
I believe that when it comes to basic human rights, these are the ones that should be pushed the strongest and loudest. Civil rights campaigns are the events that have made the world a better place. Learn about it. Talk about it. Because, as the world moves on in so many ways, at the base of 'change' is us – people, and people make a difference, from the individual to the wider society.
The world is better today than it was a hundred years ago, but it's not massively different. Suffrage was about the vote, yes, but also it was about equality. It was about discrimination. Many of those same issues still haunt our society and world today. We fear change and things we do not understand. We fear 'them'. Information (true or false) about 'them' is easier and quicker to disseminate. We rant about minor irritations in the isolation of our homes with the internet as the megaphone. We lock ourselves away, with nothing but opinion as king and fact relegated to an afterthought after the heat has died down, distracted from the issues that are worth debating. Equality is one of them. Possibly the one to debate. Add your voice, because debate leads to revolution, which leads to change.
Q: "Be the change you want to see in the world"?
M.L.: Yes.  One hundred years ago, the world was different. If we forget that then in another hundred years it'll still be the same.
Q: Do you have any philosophies or advice you'd like to share with aspiring writers?
M.L.: It's all about the editor. And try to write something with a message. Before you finish your story, find the heart in your work and make sure it says what you want to say. Give the reader something to think about when they close the book. It's your own journey, so keep your head down and stay out of trouble. Don't read the reviews/comments. And I'm serious about the editor.
Q: Is there anything else you'd like to share with readers?
M.L.: Authors like reviews!  I have other books available in the lobby. Well, some of us have got to make a living. I said to him, 'Bernie.' I said, 'They'll never make their money back …
Bio:
Mark was first published at the ripe old age of eight, when a local newspaper published his review of Disney on Ice. The next time his name was in print was a lifetime later, at the age of fifteen, when a national magazine ran his review of the Commodore 64. It was downhill from there, picking up a weekly columns in national newspapers, which funded a rather noncommittal path through university, studying a wide range of topics from Robotics, Anthropology, Philosophy, Computer Science, and Psychology.
After more than a decade as a newspaper columnist, he turned technical writer for resource companies, which provided the opportunity to travel and live in some desolate and exotic locations where the locals don't like you much.
His novels include the multi-award-winning Tesla Evolution Series, The Ellen Martin Disasters series, and several hard-boiled Science Fiction movies stories.
Links:
web: http://mark-mywords.co/
twit: @markLingane
amazon: http://www.amazon.com/Mark-Lingane/e/B00B5TE5RY
Mark's books are also available on iTunes, Nook, Smashwords and Kobo.