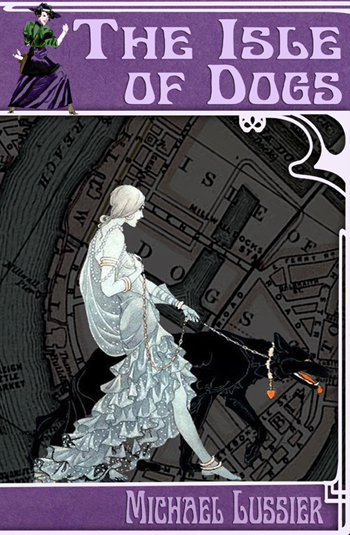 We're very pleased to be able to bring you this interview with Michael Lussier, whose new Suffrajitsu-inspired novella The Isle of Dogs is now available via Kindle Worlds.
Isle of Dogs is a dark, hard-edged mystery/revenge drama that pits Mrs. Pankhurst's Amazons against an insidious new enemy:
"London: July, 1913.
The body of a young socialite is pulled from the Thames, her suicide note hinting at blackmail, conspiracy and corruption in high places.
Meanwhile, a mysterious street gang is moving through the East End with military precision. leaving a trail of murder and mutilation in its wake.
Enter Persephone Wright and her outlaw band of Bartitsu-trained suffragette Amazons, who will stop at nothing to avenge a fallen comrade …"
Q: What was it that first attracted you to writing stories set in the Edwardian era?

M.L.: Style and personal taste have a lot to do with it.  I've always been a voracious reader, and there was something about Victorian and Edwardian literature that enchanted me when I was young.  I grew up reading Sir Arthur Conan Doyle, Robert Louis Stevenson, the Brontës,  Bram Stoker, G. K. Chesterton, Baroness Orczy, H. G. Wells, Arthur Machen, Kenneth Grahame, and Oscar Wilde.  I even enjoyed – god help me – that occult oddball Edward Bulwer-Lytton.
Q: And what was it about the Foreworld Saga?
M.L: I am particularly drawn to the Foreworld because there are still huge areas of Edwardian society that have rarely been explored outside of academia. Suffrajitsu is a breath of fresh air, in that regard.  It isn't so much historical revisionism as it is a shadow history of people who were shoved to the margins because they were poor, foreign, queer or female.
2) Can you describe some of the challenges in writing The Isle of Dogs?

M.L.: The amount of research that needed to be done was staggering.
I never imagined that I would spend more than a couple hours of my life studying Burke's Peerage or exploring the links between C. & E. Morton's Bloater Fish Paste and the Millwall Athletic Football Club.   Poor naïve bastard: I sacrificed whole days and weekends to these subjects.
3) What were the most interesting discoveries you made during your research?
M.L.: My story concerns the activities of a revived Hellfire Club, so I spent quite a bit of time researching contemporary attitudes toward sexuality.
There is a misconception that the Victorians were essentially prim, high-minded eunuchs.   This isn't even remotely true.
Q: So what were they?
M.L: Several popular music hall songs of that period that are far filthier than anything I've ever heard in a bar or machine shop.  I'm not talking 'saucy' or 'bawdy'.  Eskimo Nell and Kafoozalum are vulgar, profane and ribald on a level that surpasses Lil' Kim and Too $hort.
I also came across an obscure genre, which I call Erotic Biography.  Probably the best known examples are Walter's My Secret Life and The Romance of Lust.  These are explicit memoirs which detail an anonymous gentleman's sexual development and experiences over the course of many years and several volumes.   They portray Victorian upper-class sex as ravenous, male-oriented, compulsive and predatory.  Maids and serving girls were obliged to observe the droit du seigneur, prostitution was commonplace, pregnancies were disowned, any female age nine and above was considered fair game.  These stories are Dickensian in a really disconcerting way.
4) In what way(s) would you say the themes of the Suffrajitsu series are relevant to us today?

M.L.: Suffrajitsu is the intersection of many fascinating underground streams.  Feminism, 'mixed martial arts', drug addiction, homosexuality, violence against women, police intimidation and institutional intolerance.  These are issues and subjects that are still incredibly pertinent to 21st century readers.
Q: What's your advice for aspiring writers?

M.L.: Read as much as you can, and study the techniques of your favorite authors.  Sit down and write every day.  Don't worry about quality at first – no piece of writing is ever very good before the first revision.  Find an editor and listen very carefully to his/her advice.  Take your reader feedback with a grain of salt.
Q: Is there anything else you'd like to share with readers?
M.L.: When I was young, there was a truism in advertising that declared the most coveted market demographic to be men between the ages of 18 and 49.  This is no longer true, although for the most part nobody in power wants to admit it just yet.
Women are emerging as a very powerful consumer block.  They represent 60% of the world's population and 78% of gross domestic product.  I've seen reports that suggest that women will soon control two-thirds of the consumer wealth in the United States.   They are, for the most part, better educated and more media savvy than their male counterparts.
Additionally, young women are entering into fields that were once considered male-only; music, law, video gaming, martial arts, etc.
As the economic clout of women grows, so too will the visibility of their issues and interests.
Having spent so much time with Emmeline Pankhurst recently, I cannot help but wonder how she would seek to leverage this power in pursuit of equality in a country where the Violence Against Women Act can barely make it through Congress.
Bio
Michael Lussier has been a machinist, an orderly in a psychiatric hospital and (on one occasion only) a celebrity babysitter.  He is the author of Sherlock Holmes and Bartitsu, which can be found online here. As a general rule, Michael hates to talk about himself.
twitter: @Decervelage